Physician Jobs By Specialty
Physician Jobs in Alabama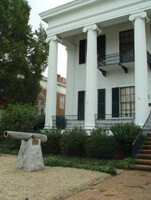 Situated in the heart of Alabama, this community boasts a relaxed southern lifestyle and warm community feel. With an exceptionally large draw area, a physician can build an enormous patient base and be as busy as they want to be. Additionally, the hospital administration goes to great lengths to ensure that physicians feel they are 'partners' whose input is encouraged, valued, and put in to action. If this sounds like a physician job you'd be interested in, register now or read on to hear about your new community!
Southern hospitalities, cultural treasures and historic sights wait in beautiful Alabama. The region hosts the finest in sports fishing and camping as well as a host of other outdoor activities. Visitor, sightseer or resident alike enjoy the endless adventures and unique opportunities that the region provides. From the mountain lakes to the sugar-white beaches of the Gulf Coast, Alabama is an unforgettable place.
A wide range of activities and entertainment is available from museum exhibits, folk art, zoos, to the exciting nightlife. Enjoy southern sophistication in fine dining and balls or good ole' down home fun of the local bar and grill. Whether you like the thrill of outdoor adventure or the interesting local history, you will never lack for something to do in this beautiful state.
We're sorry. No jobs were found matching your criteria.
New job opportunities are opening constantly across the country.