Physician Jobs By Specialty
Physician Jobs in Maryland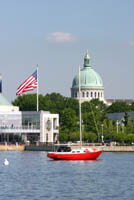 Maryland has plenty of opportunities within its healthcare industry. If you are looking for Maryland physician jobs in large healthcare facilities, small private practice, or anything in between, we have numerous positions available for you.
Picture yourself in a place steeped in Colonial history and surrounded by indescribable beauty and you picture yourself in Maryland for your next physician job. Visit tidewater beaches as you hunt for fossils with stately lighthouses standing watch. Enjoy extreme sports and explore the Appalachia Trail or brave the whitewater rapids.  Or visit the many museums, galleries, or sporting events. Whatever you choose, you will be glad to be in Maryland. It is culture, history, and excitement rolled into one.
Come and be inspired by Fort McHenry where the battle took place that inspired our national Anthem, or visit The Edgar Allan Poe House and Museum, as well as a throng of other historic sites of interest. There is something of interest for everyone here, from the festive boardwalk beaches of Ocean City to the serene fishing villages of Chesapeake Bay. For many, the thriving and eclectic Baltimore metropolis is the place to be. With its revitalized urban waterfront, it can not help but be a thriving scene for both cultural events and nightlife.
Come take a physician assignment in Maryland and the warmth, charm, and high quality of life of cozy living while being less than three hours from Philadelphia, Washington, D.C., and New York. 
We're sorry. No jobs were found matching your criteria.
New job opportunities are opening constantly across the country.