Physician Jobs By Specialty
Physician Jobs in Georgia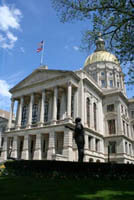 A physician job in Georgia will give you a real connection to the true southern atmosphere.  A captivating fusion of old and new, Georgia offers many fantastic opportunities for on-the-go physicians.  We have the connections with the top-tiered medical facilities to provide you with the Georgia physician jobs you want. 
Georgia is a state of incomparable beauty, unique history, award winning venues and people ready to welcome you to your adventure. The state is divided in to nine regions, each with its own personality and offerings. You can explore the windswept beaches and thriving wildlife along the coast, dine on fresh seafood in the many area restaurants or enjoy the charming historic districts.  Get away to the high country to rejuvenate in secluded retreats, or visit the sprawling hunting plantations where communities enjoy centuries old traditions.
There is also a vibrant arts and music scene, as well as many entertainment districts. Georgia is a pleasant mixture of southern hospitality and traditions with a new dynamic cultural blend.  From fine arts and history to exceptional shopping and a festive and friendly nightlife, Georgia has everything a physician could want during their next assignment.
Getting started is easy!  Simply fill out our short form above and we'll contact you with all of our available physician jobs in Georgia.
We're sorry. No jobs were found matching your criteria.
New job opportunities are opening constantly across the country.