Physician Jobs By Specialty
Physician Jobs in Washington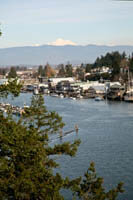 Some of the most esteemed healthcare facilities in Washington are looking for physicians including anethesiologists, hospitalists, and psychiatrists to fill their physician job needs.  In addition to being able to see one of the most beautiful states in the U.S., you will also receive paid malpractice, travel, lodging and transportation when you take a physician job in Washington.
Any resident will tell you: Washington offers the extraordinary. It is a hearty land, shaped not only by its terrain but also by many cultures and traditions. Native people like the Makah and Klallam, as well as many others add to the rich diversity of the state. There is something different and wondrous about Washington. Here, the people and the land seem knit together, flourishing like the fauna, soaring like eagles, commanding and majestic.
It would go without saying that there are ample outdoor activities, except that even regular events take on a whole new feel here. Enjoy unique forest-meets-surf beaches and watch migrating grays and orcas right from the shore or choose from the many water sports that can be enjoyed in our lakes. Extreme adventurers love the rugged trails for mountain biking and mountain climbing. The state also offers many unique historic and cultural sights to investigate, such as fishing villages and logging camps. Museums are filled with celebrations of the life and cultures of the area.  Fine dining abounds as well as a great nightlife. Whatever you choose, you are certain to be thrilled with Washington during your physician job.
Regardless of your preferred physician discipline, Physician-Jobs.net can help find the perfect fit for you in any state, including Washington.
We're sorry. No jobs were found matching your criteria.
New job opportunities are opening constantly across the country.