Physician Jobs By Specialty
Physician Jobs in Kansas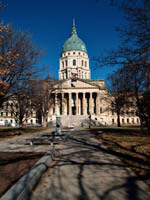 Employment openings for physician jobs in Kansas are plentiful. As a diverse state, Kansas is constantly on the lookout for new physician talent. Right now, we are currently seeking to fill a variety of physician jobs in Kansas including hospitalists, pediatrists, cardiologists, and anesthesiologists.
When you come to Kansas, you get to experience the legacy of the people and things that make this country great. Let your pioneering spirit be revived as you visit countless museums that celebrate the state's Native American, pioneer, aviation and farming legacies. Visit cowboy towns and roam on the largest remaining tallgrass prairie in North America and get a glimpse of what this part of our nation looked like over 200 years ago. Outdoor adventure abounds here, with scenic trails, nature preserves, archaeological digs, and more. It is not only known as America's Heartland, it is America with heart. It is the original free state and the birthplace of many of our heroes. It is easy to see why this land so inspires.
Kansas is, of course, known for barbeque, and you will not be disappointed. Once you take a break from sporting events, museums, tours and shopping, it is time to unwind and take in some of the exciting nightlife. Just like the food, the scene is hot! Whether you like crowded and fast-paced or smaller and more intimate, you are certain to find something to you liking. The people are friendly and welcoming, and even if you have never met a soul in the room, you are among friends.
The Kansas physician jobs below represent just a small sample of the hundreds of opportunities that await you when you use Physician-Jobs.net. Register now to find an assignment in the location of your choice.
We're sorry. No jobs were found matching your criteria.
New job opportunities are opening constantly across the country.