Physician Jobs By Specialty
Physician Jobs in Colorado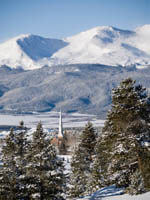 From Denver to Colorado Springs, Colorado has the kind of jobs physicians are searching for. With an abundance of healthcare facilities throughout the state, opportunities for physicians in Colorado is limitless.  Register with us today to learn more about all the open assignments waiting for you.
There is an almost magical allure of Colorado's rugged beauty and challenge. Located in the Southwestern part of the United States, the western half of the state is dominated by the Rocky Mountain range. The range not only provides some spectacular scenery, it also provides endless ready-made adventure, attracting skiers and snowboarders to some of the best resorts in the US. Colorado is more than the Rockies – much more. Throughout the state, you can find adventure in the mountains, forests and plains. The streams and rivers provide excellent kayaking, canoeing and rafting that will satisfy the thirst for adventure. It is, of course, the land of the old west, gold and silver mines and you will find many authentic working ranches, mines and ghost towns.
It is difficult to find a state that can offer such a wide range of activities. From family friendly amusement parks to professional sports, Colorado has it all. Many enjoy the educational historic districts and archaeological sights, while others the hot springs and spas. The nightlife includes everything from casinos, music, theater and performing arts to the local pubs, clubs and breweries. There is a wealth of things to do, see and learn in Colorado. The only trouble is where to begin.  Guess you'll have to find out when you take your next physician job here.
With its fantastic ambiance, nightlife, and exciting outdoor events, a physician assignment in Colorado is sure to be an exciting one.  Register now to see what physician jobs we have available!
We're sorry. No jobs were found matching your criteria.
New job opportunities are opening constantly across the country.