Physician Jobs By Specialty
Physician Jobs in Oklahoma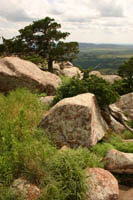 As a state that is redefining itself, Oklahoma has many openings for physician jobs spanning a wide variety of specialties. If you are looking for a physician assignment in Oklahoma, Physician-Jobs.net can help you find the perfect position in your discipline.  Register with us today, or read on to learn more about our Oklahoma physician jobs.
Located in the South Central portion of the U.S., Oklahoma has varied landscape and climate conditions. It is home to 50 state parks and two national protected tallgrass prairie preserves, which are part of a protected ecosystem. The people of Oklahoma are dedicated to the preservation of its wildlife habitats and history so there is much to see that you cannot enjoy elsewhere. You will find world-class museums dedicated to offering a close and personal look into the past as well as living history entertainment parks.  Oklahoma is a state that loves to celebrate its uniqueness with a steady stream of events, festivals, and celebrations.
A physician could spend a lifetime trying and still never exhaust the list of exciting activities. Ride the beautiful and rugged terrain, raft the Illinois River or climb the challenging Wichita Mountains and be invigorated by the beautiful outdoors. Enjoy community events, shopping and entertainment all within easy access. There is plenty of big city life and hot night spots for those who prefer it during their physician assignment, but there are also safe, quiet neighborhoods to return home to at the end of the day.
Register now to learn more about our Oklahoma physician jobs!  Or contact us to have a custom job search done for you.
We're sorry. No jobs were found matching your criteria.
New job opportunities are opening constantly across the country.