Physician Jobs By Specialty
Physician Jobs in Vermont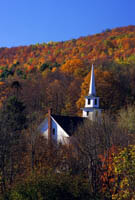 Vermont provides an incomparable environment in which to live and practice during your next physician assignment. With an exceptionally large draw area, a physician can build an enormous patient base and be as busy as they want to be. Plus, your malpractice, travel, lodging and transportation costs will be covered during this physician job. If this sounds like a physician job you'd be interested in, register now, or read on to hear about your new community!
With just over 9,600 square miles, Vermont is relatively small, and yet it is packed with perfection. There are four distinct and enjoyable seasons, with summers averaging in the mid 70's and winters in the low 20's. Winters see average snow from 100 to 250 inches depending on the elevation, perfect for winter thrill seekers. Enjoy strong community involvement and commitment in attractive neighborhoods. The sense of community is a huge allure for physicians when they experience the diverse and friendly people.
You will find a wealth of opportunities in the historic downtowns which are filled with unique shopping, dining, arts and entertainment. Shopping the downtown is a vital part of life here, and is the hub of activities. You will love the all of the museums and tours available in the area, such as the American Precision Museum which celebrates the birthplace of America's industrial revolution. Many enjoy a trip on the Green Mountain Railroad that features beautiful scenery, photo ops and historical sights. If you are up for more strenuous activities, try a hike on the Appalachian National Scenic Trail a 2,167 mile footpath, or the many other outdoor adventures. Vermont is filled with beauty, wonder and adventure and is waiting to be discovered by you during you next physician job.
With its fantastic character and exciting outdoor events, a physician assignment in Vermont is sure to be an exciting one.  Register now to see what physician jobs we have available!
We're sorry. No jobs were found matching your criteria.
New job opportunities are opening constantly across the country.