Physician Jobs By Specialty
Physician Jobs in Maine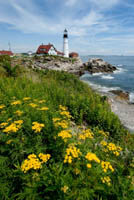 Physician-Jobs.net has a wide array of practice opportunities in Maine — from family practice to urology, no matter what state or practice you specialize in, we'll find the perfect physician travel job for you.
Steeped in both history and beauty, Maine residents and visitors enjoy the best of our country's offerings. Serene landscapes and friendly communities add to the stable environment.  Its mild climate, which has a summer average of 70 degrees in the summer and winter temperatures at 20 degrees make it the perfect setting for adventurous expeditions year-round during your next physician assignment.
Nature does what nature does best in Maine. The picturesque beauty offers adventure for every outdoor enthusiast. It has 6,000 pristine lakes and ponds, 32,000 miles of rivers and streams, 17 million acres of forestland, 3478 beautiful miles of coastline, and 2,000 islands. In winter there are over 1,600 miles of groomed snowmobile trails to enjoy. There are 60 lighthouses in the state, including the Portland Head Light commissioned by George Washington.
The state is filled with historical sights and museums to enjoy by day. By night, you can walk into any pub and share time with people who feel as if they have been life-long friends. Very few places offer as strong a sense of community commitment as this beautiful state.  Come see all Maine has to offer by taking your next physician job here!
The Maine physician jobs below represent just a small sample of the hundreds of opportunities that await you when you use Physician-Jobs.net. Register now to find an assignment in the location of your choice.
Don't see what you're looking for? Contact us and we'll find a physician position specifically for you!
We're sorry. No jobs were found matching your criteria.
New job opportunities are opening constantly across the country.