Physician Jobs By Specialty
Physician Jobs in Wisconsin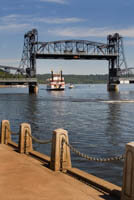 From Milwaukee to Madison, Wisconsin has the physician jobs you are searching for. With an abundance of healthcare facilities throughout the state, opportunities for physicians in Wisconsin are unlimited.  Register with us today to learn more about all the open assignments waiting for you.
Wisconsin is a land of beauty, culture, history, and what surprises many, adventure. Wisconsin is far from your average state. Be cooled by harbor breezes and enamored by the many lighthouses, experience the thrill of the hunt in the woods or enjoy scenic byways. Wisconsin has what you need, and things you never knew you did.
If you love extreme sports, one scuba excursion will be unlike you've ever seen. The Maritime trails program marks the site of 23 shipwrecks in Lake Michigan and Superior and encourages divers, snorkelers and boaters to explore the amazing sights. You will also enjoy a trip back in time to the state's Amish country, home to some of the most beautiful farms in the country. Soak in a culture where people matter most. You will find some of the most interesting museums and exhibits around, as well as amusement parks, water parks, sporting events and festivals. The sense of community is strong, and there are many local gathering places, clubs and taverns.
Getting started is easy!  Simply fill out our short form above and we'll contact you with all of our available physician jobs in Wisconsin.
We're sorry. No jobs were found matching your criteria.
New job opportunities are opening constantly across the country.