Physician Jobs By Specialty
Physician Jobs in South Dakota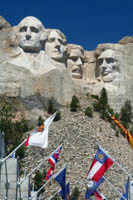 We have a variety of physician job opportunities for physicians in South Dakota.  Through a group of distinguished health facilities, we are able to offer a wide range of clinical settings — from rural solo physician practices to the country's major health systems and managed care organizations.
If you are looking for a place with a sense of permanence, pride, and stability, then South Dakota is when you need to take your next physician job.  Known as the "Mount Rushmore State," it is a place where memories are carved in stone, and rugged endurance is hewn from the land. The diverse landscape and diverse people give the state a blend of activity and excitement known nowhere else.
South Dakota is a place where majestic mountain ranges and crystal clear rivers meet rolling prairies, frontier towns and bustling cities. This state holds something for everyone. For the outdoor enthusiast, there is an abundance of hiking, biking, sailing, kayaking, golfing, horseback riding and more. You will find unique and exciting national treasures like Custer State Park. If you enjoy gaming, Deadwood boasts of having over 80 gaming establishments as well as great pubs and restaurants.  Wherever you choose to live or whatever you chose to do in South Dakota during your physician job, you will be surrounded by friendly people and great atmosphere.
Register now to learn more about our South Dakota physician jobs!
We're sorry. No jobs were found matching your criteria.
New job opportunities are opening constantly across the country.